Drama Classes Stellenbosch - Stellenbosch
Wednesday, 16 March 2016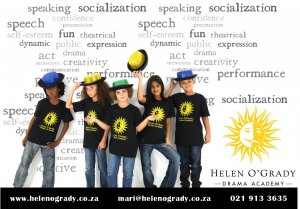 Item details
City:
Stellenbosch, Western Cape
Contacts

Mari
Item description
Development through drama
The difference is dramatic!
As the largest Drama Academy in South Africa, we promote confidence, communication skills, presentation skills and creativity in children aged 3 – 18 years!
We achieve this by focussing on speech; basic movement and mime; creative improvisation; and dialogue development – everything your child needs to learn to be confident and communicate effectively while having fun!
We run weekly classes in Stellenbosch!
26 Banhoek Road
Monday afternoons
4:00 - 5:00pm6-12 years old (Composite Primary Class
5:00 – 6:00pm13-18 years old (Youth Theatre Class
For more general information, please consult our website on www.helenogrady.co.za.
For specific information regarding classes, please e-mail us on mari@helenogrady.co.za or call us on 021 913 3635.
Call for a free trial lesson!
Tailor-made programs also available for pre-primary schools; primary schools and high schools.